Mailbag #3 I Like My Goalies Shaken Not Stirred Edition
  Welcome to another edition of the Bolts Jolts mailbag. When asking for questions this week I started to notice a theme. Not surprisingly, the stirring debate of Bishop versus Vasilevskiy has taken over people's curiosity and now it has taken over the mailbag. I can't say I blame any of you though; it's a complicated and important situation in Lightning Land. So sit back, grab an aspirin, and enjoy the musings of the Bolts Jolts cover band.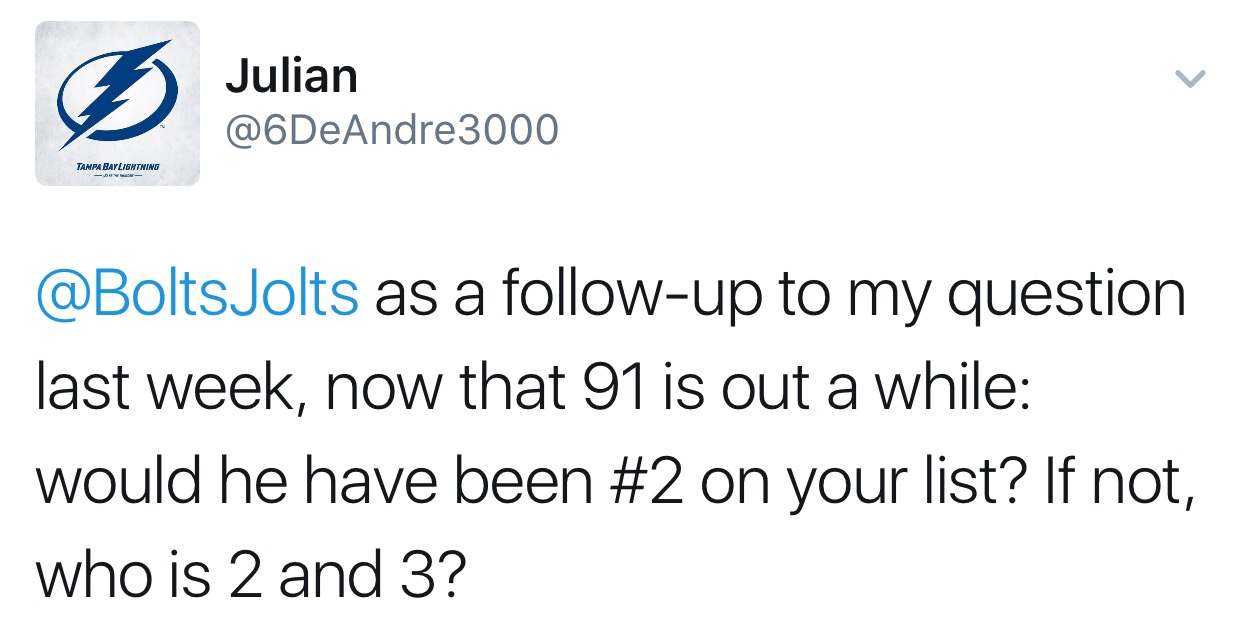 Of course since you ALL read the Bolts Jolts Mailbag every week, you know exactly what question Julian's follow up is referring to right? Right. But let's pretend that you in fact, sadly, had more important things to do than read a random guy's opinions on a website. Julian's original question was basically, who would be the worst person to go down for a long period of time on the Lightning. My response was Victor Hedman.
  To answer this follow up, I would say Stamkos was probably tied for second on the list with Kucherov. Although I think before the season I would have said Kucherov ahead of Stamkos easily. Stamkos was having an amazing start to the season, dominating really, and his loss is most definitely more a bludgeoning on the head rather than a paper cut. There is a slight silver lining to his injury in relation to cap space moves, but that's another story for another day.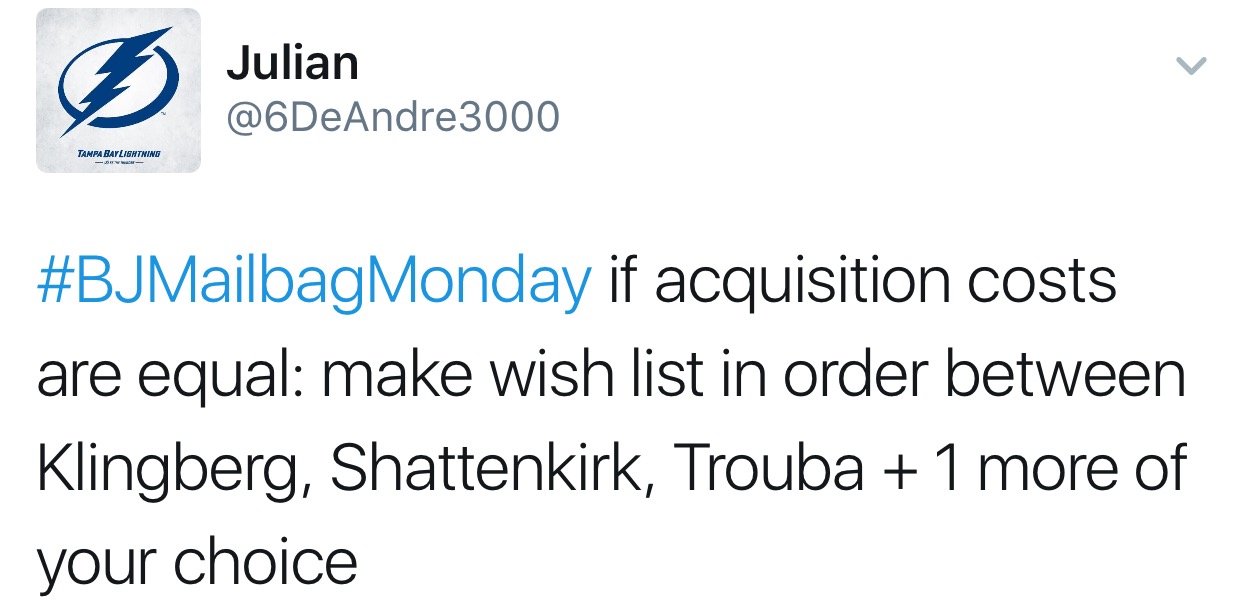 Julian sent in a few questions and frankly I love the gung ho mentality. I'll continue to answer every single one, so don't be shy. This is a loaded question. With the playing field evened out for acquisition costs, the real question isn't necessarily who is the best player, it's who is the best player that fits what the Lightning need. Before I go any further I just want to let it be known that I don't see any way at all that Dallas parts with Klingberg. Having said that, let's look at player types in your options. They are all right handed which is exactly what Tampa Bay needs. My addition to the list would also be right handed and rumored to be available; Dougie Hamilton. So does Tampa Bay need a purely offensive dynamo who is young? A grizzled vet that is amazingly balanced both offensively and defensively? A young stud still finding his way but putting up top pairing type numbers already? Or a very well balanced young stud that drives play all day long?
  Sure, I've over-simplified the options. And realistically, all four of these options would fit Tampa Bay extremely well to fill a void. Contracts will be a problem with a couple of them moving forward, while the other two are on great contracts for awhile. So all that being said, here would be my personal list in order of who I'd want most to least, with the understanding that I would LOVE any of these guys in Bolts blue. Hamilton, Shattenkirk, Trouba, Klingberg. Lock it in.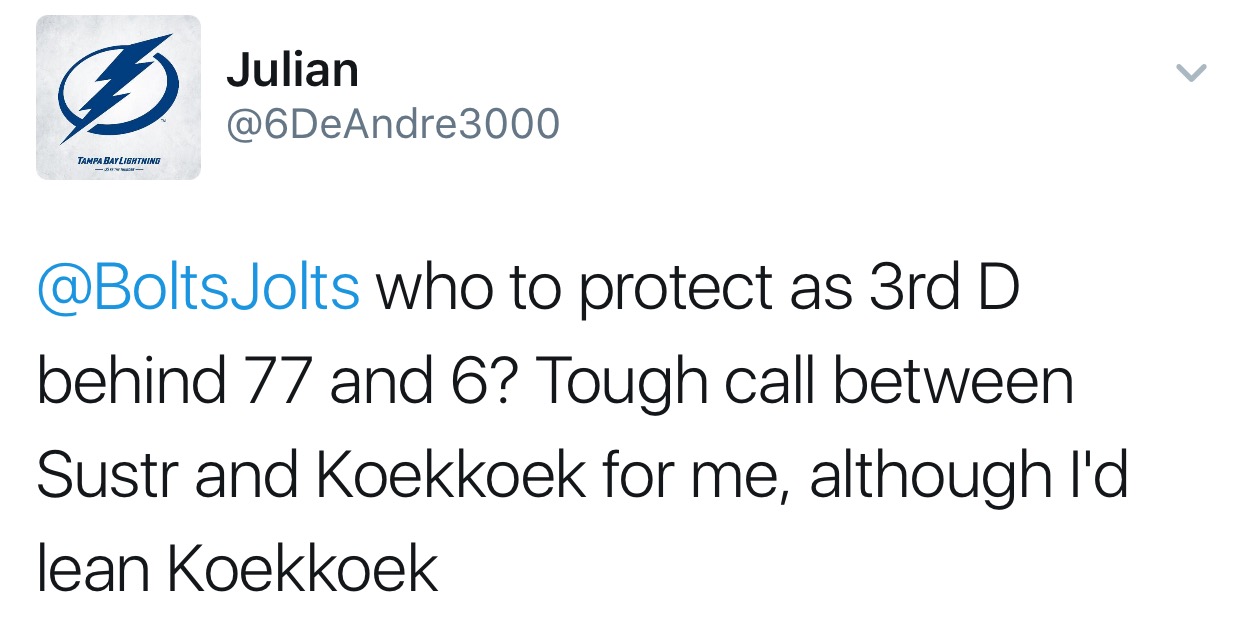 I'll say first and foremost, I'm still sorting through all the expansion draft rules for protecting players and exposure requirements related to cap amounts and playing experience. From my brief overview of things, I don't believe Koekkoek will need to be protected. However I might have missed something on that front so I'll assume Tampa Bay would in fact have to choose between the two and play Sophie's Choice. The answer is an overwhelming Koekkoek every day of the week and twice on Sunday. Sustr is a big right handed defenseman, but after that Koekkoek owns him in every category, including potential. Personally I think Tampa Bay gets out of the expansion draft with losing only Nesterov, but that's not here nor there. The answer is a resounding Koekkoek.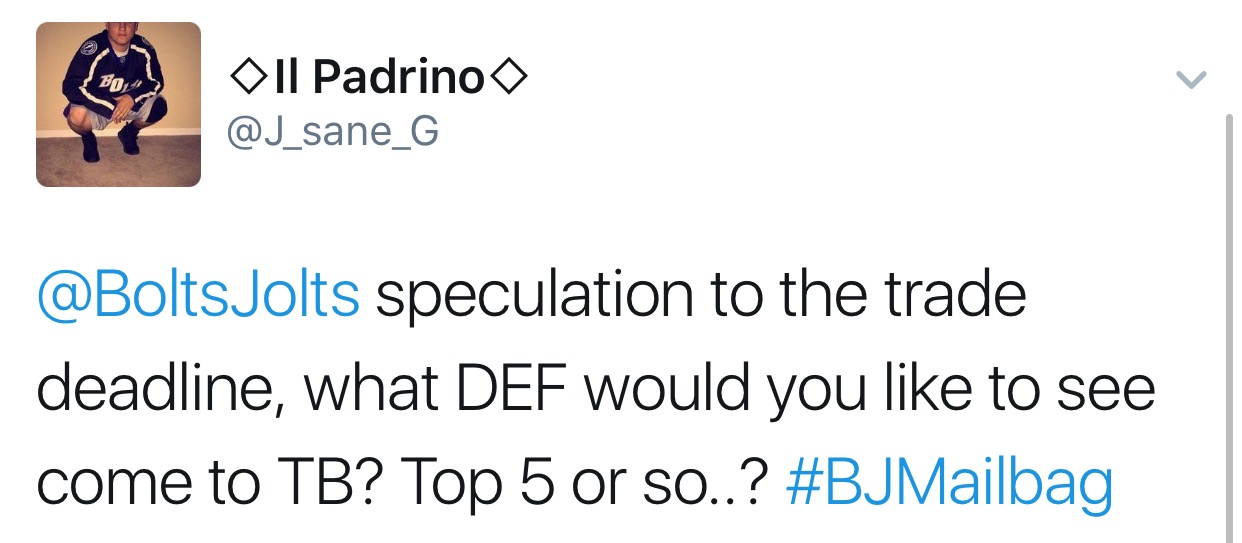 I really truly believe we will see Yzerman navigate away from his standard modus operandi this trade deadline. While the team is by no means going to fall apart this off season, this is most definitely the last song to be sung when it comes to this band being together. This team hasn't changed more than one or two players on the active roster for almost three years now. That WILL change this off season. Because of that, I think Yzerman goes as all in as he can without severing all future assets.
  I think you will see him trade for a pure rental or two. I think you will see him move a higher draft pick or two or a good prospect or two to completely load this roster up for the big bang of the playoffs. The question asked above about defensemen with my options given, would basically be my answer for this question. Assuming of course no out of left field names are secretly available, I'd have to go with: Hamilton, Shattenkirk, Trouba. I also wouldn't mind an off the radar depth pick up like a Cody Franson.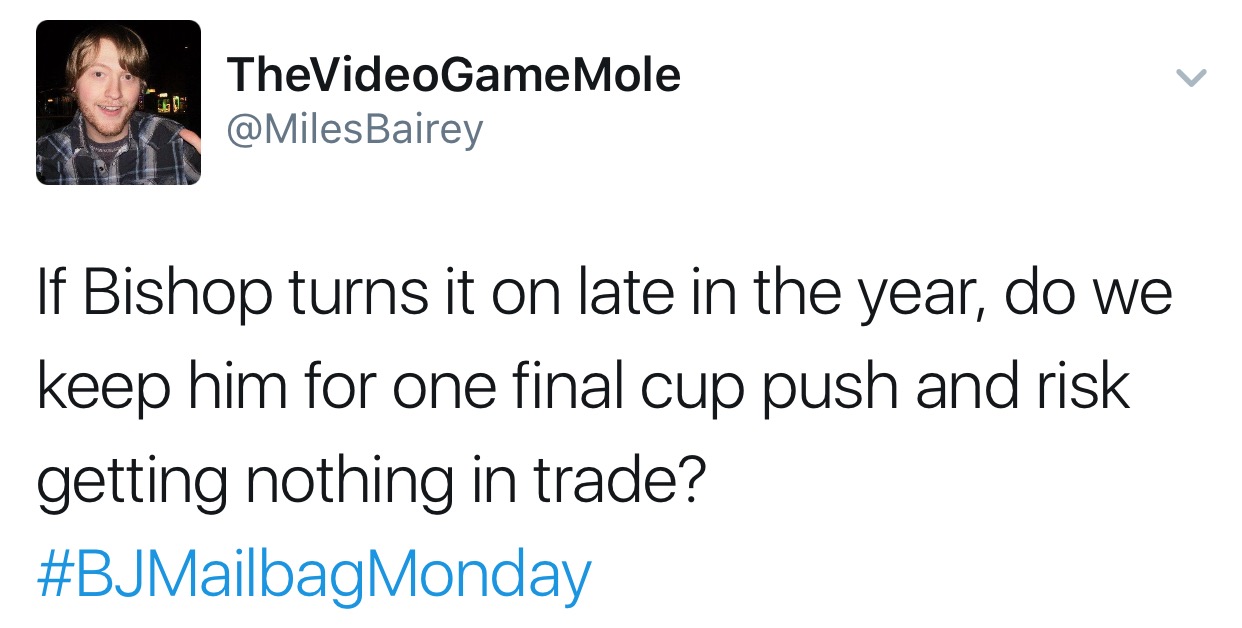 Before the season started my thought process was this. Keep Bishop and make another run with the goalie depth of basically no other team. If Bishop walks for nothing in the off season then so be it. I felt it was worth the security and frankly I wasn't sure how Vasilevskiy was going to fair this year. I still partially feel the same way, but not as vehemently. If Yzerman made a trade that included sending Bishop out for something in return that improves the roster then I would be just fine with it from an analytical standpoint.
  You can't play both goalies at the same time, and Vasilevskiy has shown he is more than ready for the job in my not so humble opinion. On the other side of the coin, goalie depth is just as important as depth elsewhere on the roster, and if keeping Bishop, even if Vasilevskiy is the starter in the playoffs, leads to Tampa Bay bringing home Lord Stanley, losing him for nothing in the off season isn't going to hurt so much.

  Depends on what cliche narrative Jon Cooper wants to follow. Once upon a time it was a meritocracy. The goalie playing better was given the ball to run with it. Now it seems to be a set plan on who starts when and no performance, amazing or insufferable, will derail that. For me, it's getting really close to closing time. Meaning a couple more gems from Vasilevskiy or a couple more stinkers from Bishop and Vasilevskiy will get that ball handed to him to see just how far he can run with it. Bishop has been the backbone of the team and spectacular for three years. Unfortunately that prior success doesn't put points in the bank for this season. That's the cruel world of sports. If I had to put a date on it, I would say by mid January Vasilevskiy will be the 1A rather than the 1B.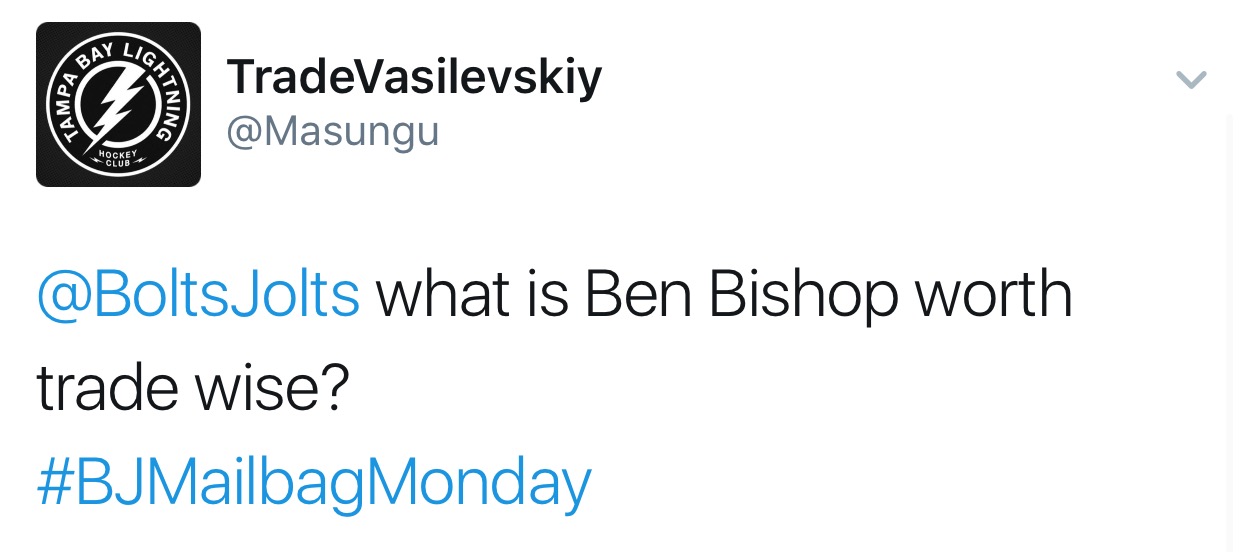 Goalies are voodoo. That doesn't change when talking about their trade value either. Its incredibly hard to predict what a goalie will go for. So many variables between the market and the goalie being traded. With Bishop you are looking at a two time Vezina finalist that has been nothing short of heroic for almost three seasons for Tampa Bay. You are also looking at an upcoming unrestricted free agent with a serious injury prone issue on the wrong side of 30. In a perfect storm I would say Bishop might garner a similar stature skater, a good prospect, or a first round pick in return. Although I do think that if Bishop is traded, it will be part of a bigger package.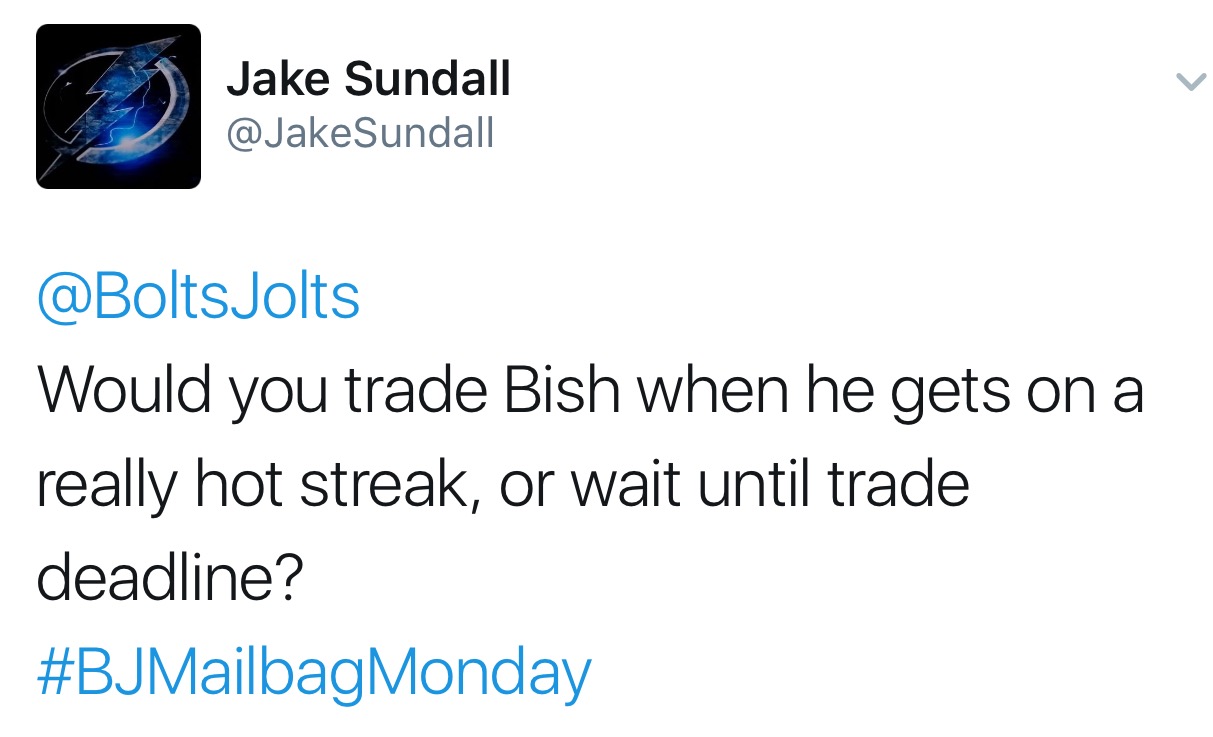 If the decision has been made to trade Bishop, I think you do it the second you get what you want in return. If you are being offered less than what you are looking for, you hold him until the deadline and let the pressure build on the other GMs to up the ante. Yzerman has no pressure to move Bishop. So he holds all the cards. We have seen what Yzerman can do when he doesn't hold any of the cards, so I almost feel sorry for the GM that ends up making a deal with him. Almost.
Last but certainly not least, in fact quite the opposite, is our question of the week. Thanks for sending it in Sam and keep an eye in your DMs for a message from Bolts Jolts to get your info for your free decal!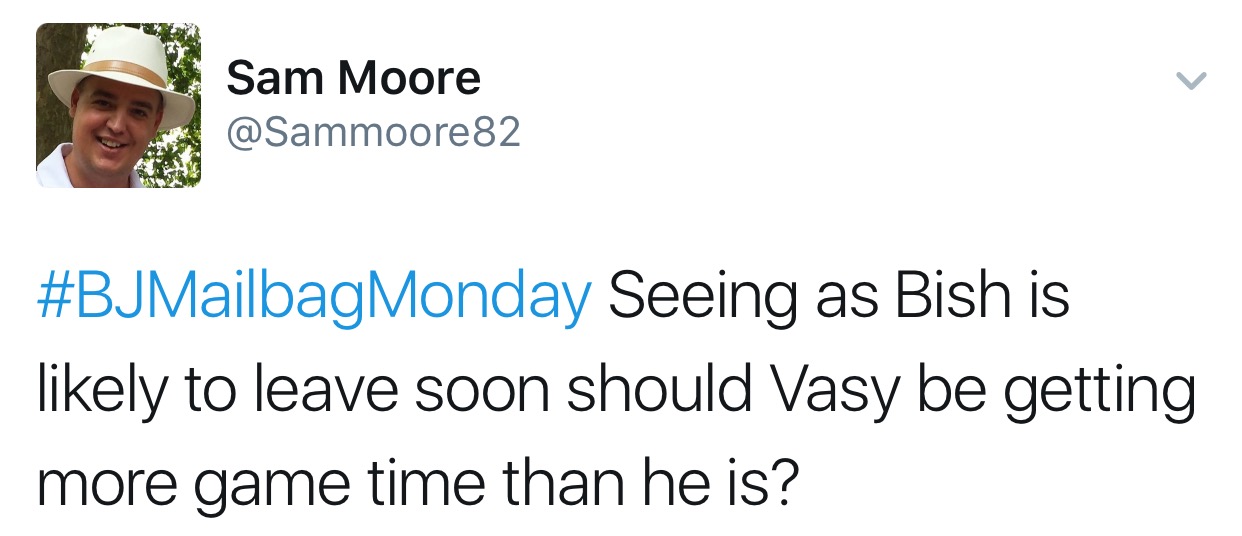 You might be thinking "Wait, this is a question exactly like the one above about when Vasy should be the starter", but alas, its not exactly the same. This question is a little broader. Vasilevskiy's playing time in general. I think the first part of the question is important. A lot of Lightning fans need to come to the realization that barring a Christmas Miracle, Ben Bishop will be moving on from this organization at the latest in the off season. With that knowledge, Tampa Bay is starting to give Vasilevskiy more games than he would get under normal circumstances as a backup. The question is, should he be getting even more than what is being allotted.
  For me, the answer at the start of the season was to play it by ear. That ear is singing a fine tune right now as Vasilevskiy as a whole has been stellar in his playing time. At this point its almost criminal to not see what the kid can do with a string of games in a row. You know what you have in Bishop. It's time to let the cat out of the bag with Vasilevskiy. Yes that's a kitten reference for you Vasilevskiy lovers. So yes, Vasy should be seeing more starts. As said above, I think if they don't come as part of this "master plan" Cooper says he has, they will start coming naturally due to his stellar play and Bishop being a bit inconsistent as of late. Vasilevskiy is almost at the point of forcing Cooper to alter his plan for starts, but Cooper is stubborn to fault sometimes, so who knows if that comes to fruition.
Well that's it for this edition of the mailbag. As always feel free to tweet me any questions you may have about the Lightning. Either send them to @BoltsJolts or use the hashtag #BJMailbagMonday. Hopefully you laughed, you cried, you shook your fist at the screen in annoyance with me. Until next week, thanks for reading and send in those questions!