Mailbag #2 Second Edition
Welcome to the second edition of the Bolts Jolts Mailbag. Where we take questions that we forced you to ask, turn them inside out, and end up with answers that have no relevance to said questions. This week we have a good range of questions with topics including jerseys, god parents, and trades. So enough with the fluff, lets get to it.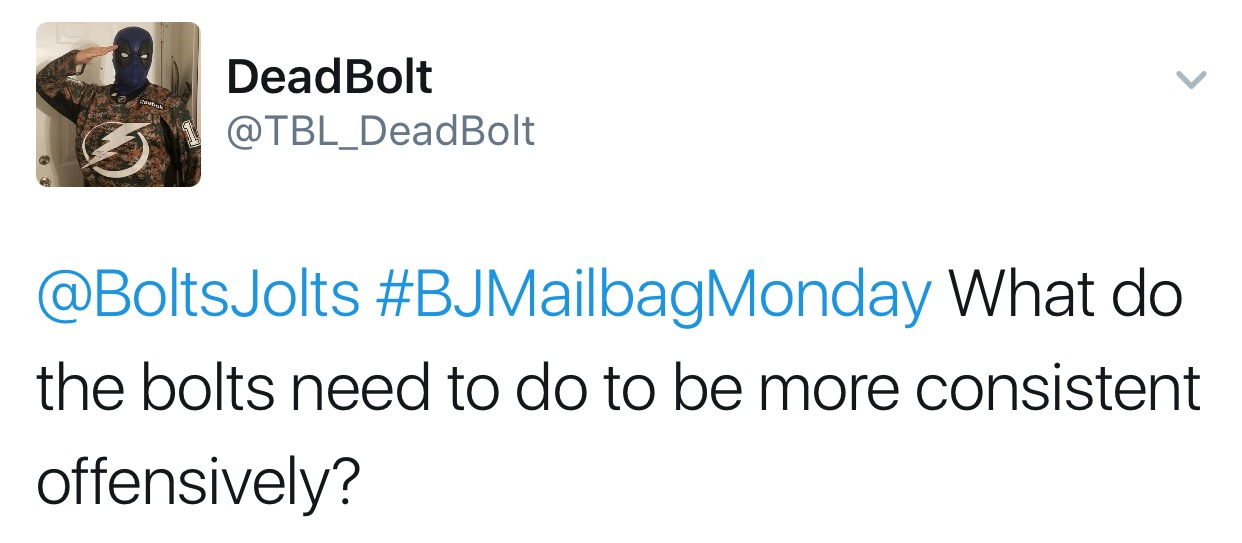 When I got this question I was literally in the middle of writing this piece about how consistently inconsistent Tampa Bay has been this year. The short answer here is, well, there is no short answer.
Tampa Bay is ranked 11th in the league in SF/60 at 30.17 and 23rd in SCF(Scoring Chances For)/60 both being at 5v5. This tells us that they are putting pucks on net in generally low danger areas more often than not. The past few seasons the Lightning's strength has been their excellent even strength play that was complimented by a power play goal here and there. This season so far, its almost the complete opposite. They need to figure out their 5v5 game, create more offense by driving the net which has been seen few and far between this season, and create more quality scoring chances by actually putting the puck on net when they find themselves in high danger areas of the ice. If they can get their even strength game up to what we have come to expect from them the past few seasons, and their power play stays en fuego, their offense will be a force to be reckoned with.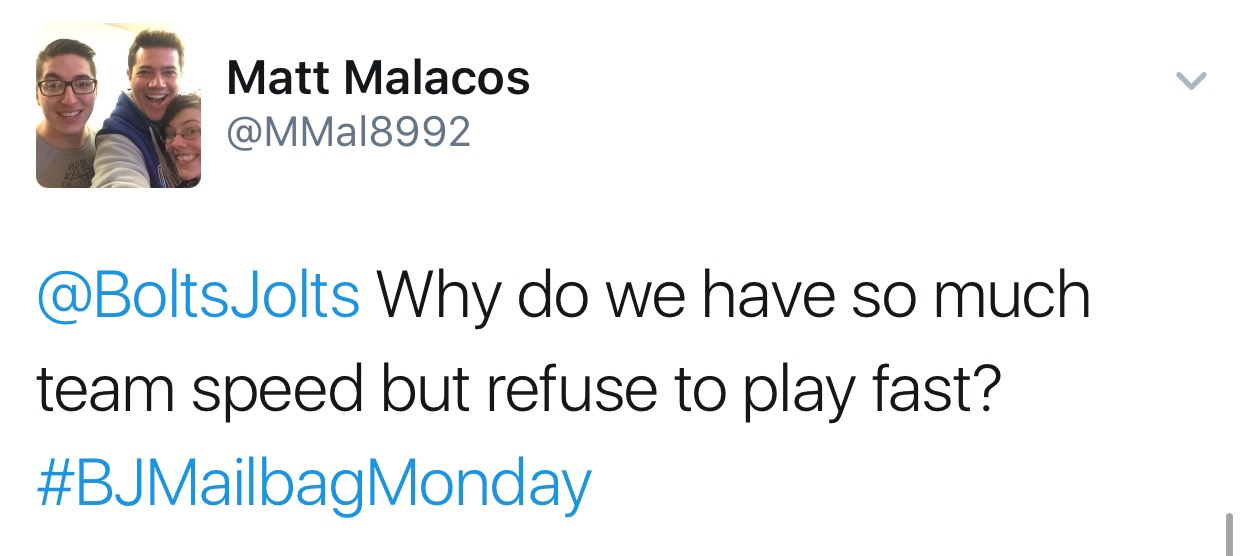 While Tampa Bay is considered one of the faster teams in the league, they still play within a system. The system sometimes dictates to slow the speed of the game. The Lightning can run and gun with pretty much any team in the NHL, but the trend has been defense leads to offense. The first year Cooper took over, Tampa Bay had the best offense in the league and a mediocre defense. Last year, they had a top five defense and their offense took a hit, dropping to middle of the pack. I feel as though Cooper is trying to balance it all out and come out with a product that will win games consistently. One other issue with playing with speed, is it's hard to do when trailing, which Tampa Bay has been doing a LOT of this season to start games. Teams start to clamp down earlier and earlier when they have a lead, which leads to a lot of sludge in the neutral zone. All in all, they need to focus on getting leads, which will force the other team to open up and in turn allow Tampa Bay to flow quicker as well.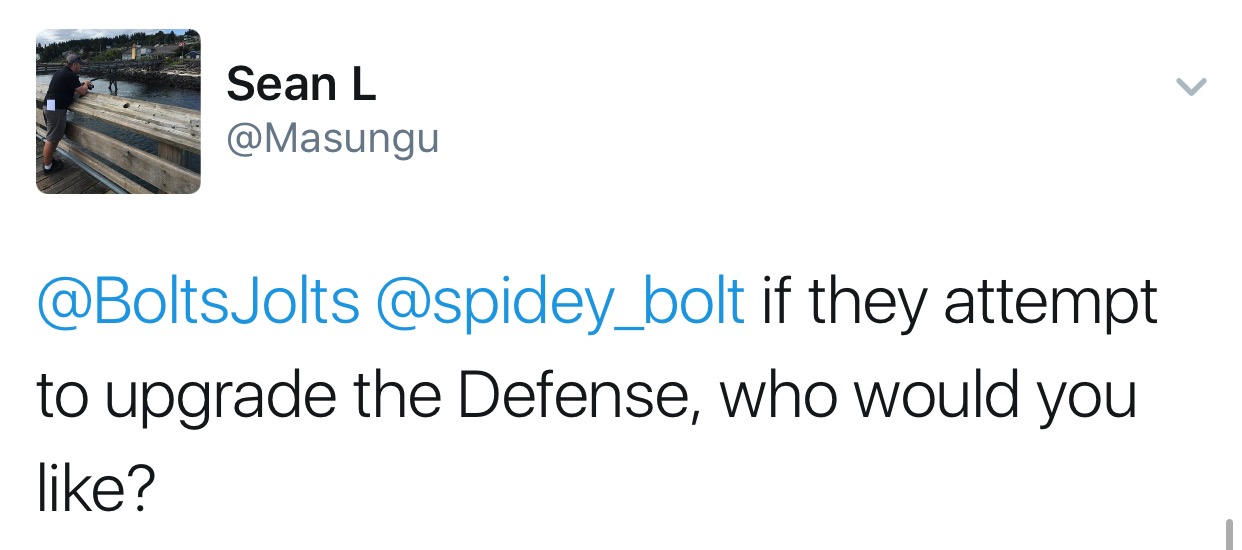 I have been pretty vocal about who my ideal targets to upgrade the defense should be come trade deadline, or hopefully sooner. The biggest weakness on this team is on the right side of the defense. One of the best fits, and best players, that is actually known available is Jacob Trouba. He is young, he is a stud, and he is cost controlled (as much as that means these days). He is an offense driver and would be a perfect fit on the power play. Going all the way back to his draft class in 2012 I had hopes of him ending up in Tampa Bay, but alas he was picked by the Winnipeg Jets 9th overall, just one single pick ahead of Tampa Bay's slot at 10th. We did get Koekkoek in that position, but Trouba was and is a much needed talent and pedigree in the Tampa Bay organization.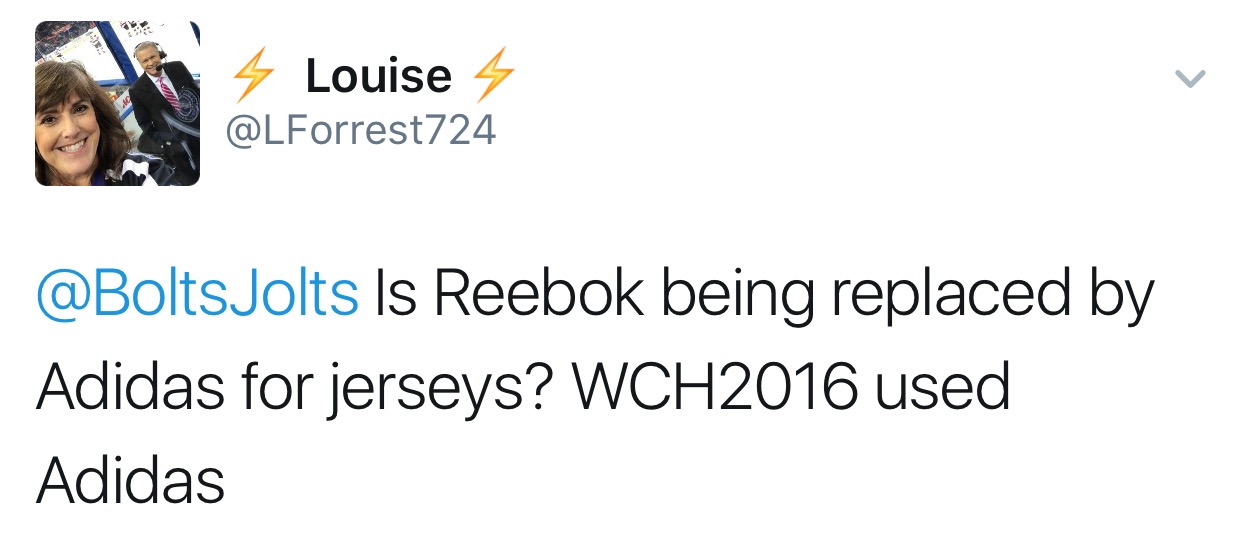 In the 2017-2018 NHL season, yes Adidas will be the official provider of NHL jerseys. Its a seven year contract that will include some small redesigns to certain jerseys around the league, as well as eventually a more than likely jump into advertisements on the jerseys as well. Apparently, there will also be two versions, one which is like the Premier Reebok jerseys that will have a different branding on the tags, and one that is like the Authentic Reebok jerseys that will have the actual Adidas logo on the tags. Pricing looks to be about the same as they are currently.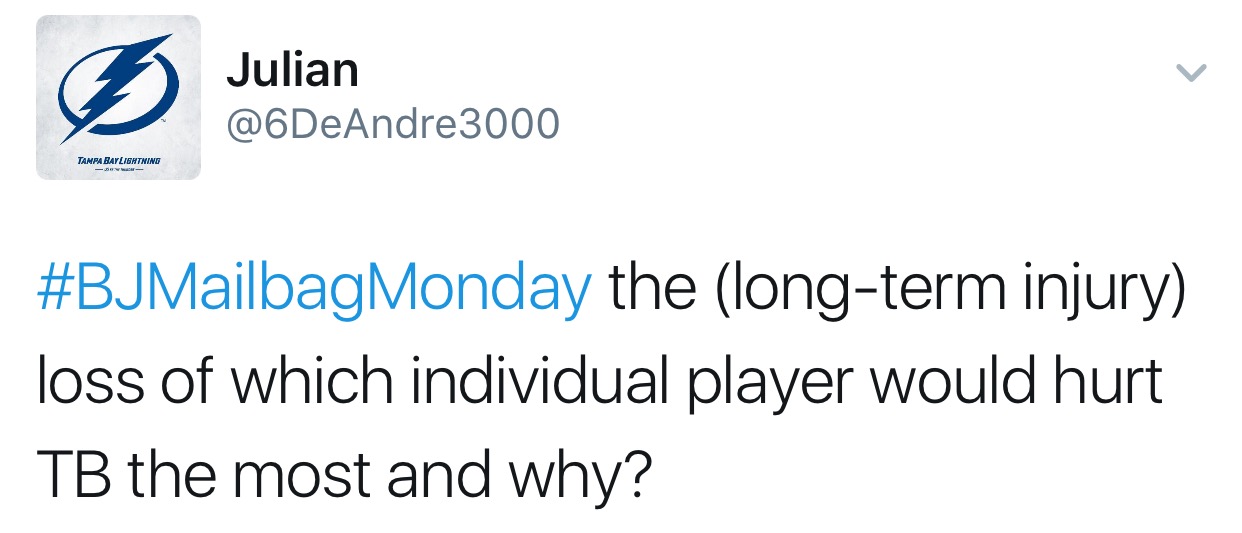 I always feel like these are jinx questions. But hey if it turns out I have that magical ability to turn words into truth, once I know, I can use my new found powers for good. I don't think you'll find too many people who would disagree with this answer in the Tampa Bay Lightning stratosphere. Victor Hedman. Hedman is the one player who the Lightning absolutely cannot afford to lose for a long period of time. He stirs the drink on both defense and offense and is becoming one of the league's biggest workhorses. There is no one on the current roster and certainly not in the pipeline that can come close to replacing Hedman's skill and contribution to the lineup night in and night out. Cross your fingers and your toes we don't have to worry about that hole being made.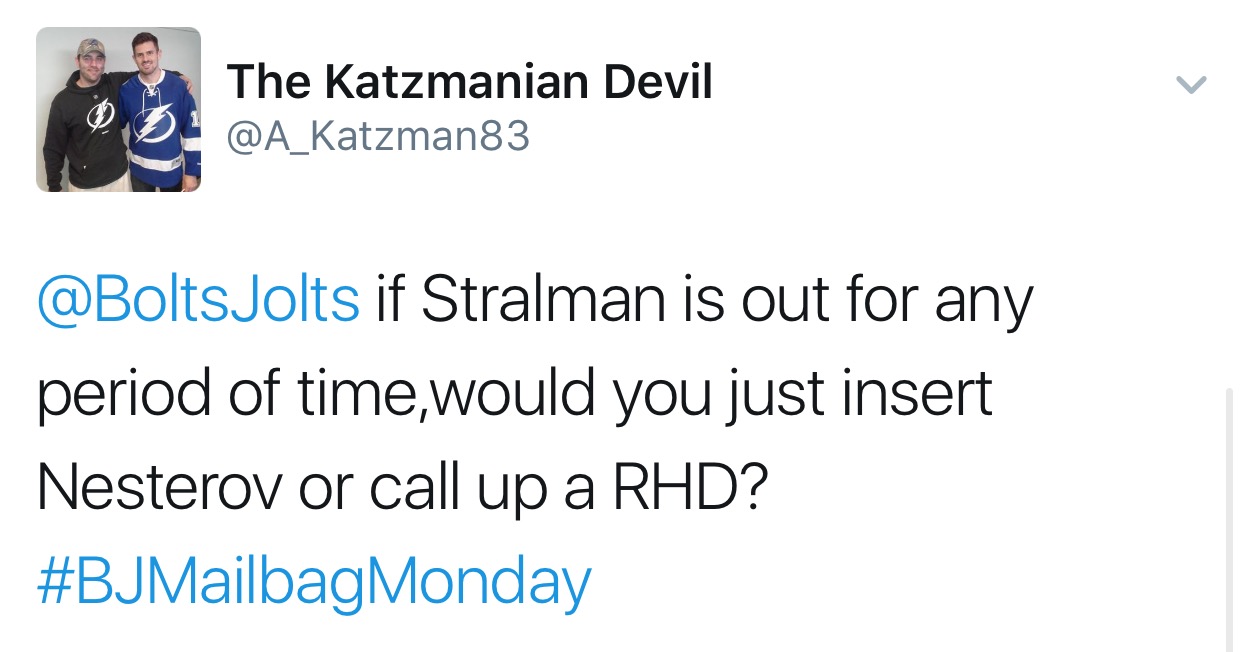 Looks as though we found out what Tampa Bay thinks about this question as Luke Witkowski was called up today to fill in for what looks to be a multiple game absence of Stralman. I would assume it will mostly be Nesterov filling the lineup spot and maybe giving Witkowski a game or two depending on how long Stralman does remain out. As said above, that right side defense is already the weakest link in the chain for Tampa Bay, so having not only Tampa Bay's, but one of the league's, best right handed defensemen out is definitely not helping things. 
This is a common question in Lightning land over the last few years. I think the first thing is to understand where Cooper is coming from. He had amazing success in not only winning, but developing young players with massive talent in the AHL. When he came to Tampa Bay he had to learn for himself how to handle veteran players of all kinds. Its a balancing act of keeping your veteran players happy and your younger guys playing. I think Cooper has walked that tightrope as well as he felt he could over the past few seasons where we saw Kucherov scratched for Crombeen, Drouin scratched for Morrow, and Koekkoek scratched for Carle. Three young players with immense talent not even getting playing time because the veterans are blocking the way. There are most certainly times where it could be said Cooper should have done things differently, and no one would question you otherwise. But hindsight is normally 20/20 and Cooper is definitely a coach with his finger on the pulse of his team. Frankly, while there may have been some seriously rocky paths due to how things were handled, cant really argue with the success the aforementioned players have found.
The exception in Point that you, ahem, point out, is in my opinion due to Point's willingness to play defense, learn the defensive system, and sacrifice some of his offense to make sure he is defensively responsible. Things that Kucherov and Drouin probably weren't willing to do right away. Again, all just theories mind you, but that's the difference I see in that situation. Marchessault is a slightly different story as frankly there just wasn't enough room for him in a true scoring role outside of when someone was injured. I don't think it was a case of the organization not seeing the talent in him, but more so they are already so stockpiled in talent they couldn't find the room. When you have an organization that has been run as well as Tampa Bay has over Yzerman's tenure, that tends to happen, and is a great problem to have.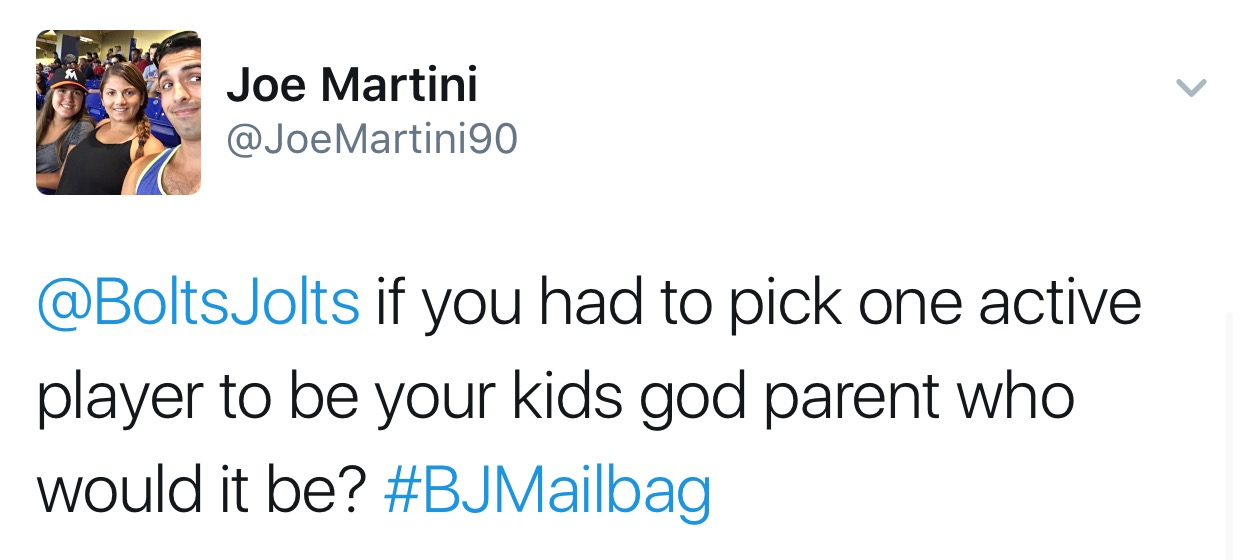 First I'd just like to publicly shame one of Bolts Jolts own contributors for not using the proper hashtag. For shame sir. For shame.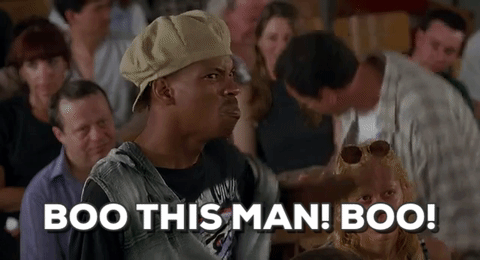 Now that that is out of the way, lets add a little levity to this article. For me, I would want someone who is just a big kid at heart and knows how to have some fun. The obvious choice in that regard would be the human caricature Brian Boyle. He would be able to teach my kid how to have fun with everything, with that constant smile on his face. Most importantly, he would be able to teach him how to do the chicken dance, and that's all that is needed in life as far as I'm concerned.
Finally, we have the question of the week. Oddly enough, its a question I don't have a full answer for. Which is why it was chosen as it has sparked a topic for a future article. Thanks for inspiration @steverockfla! I will DM you about your decal.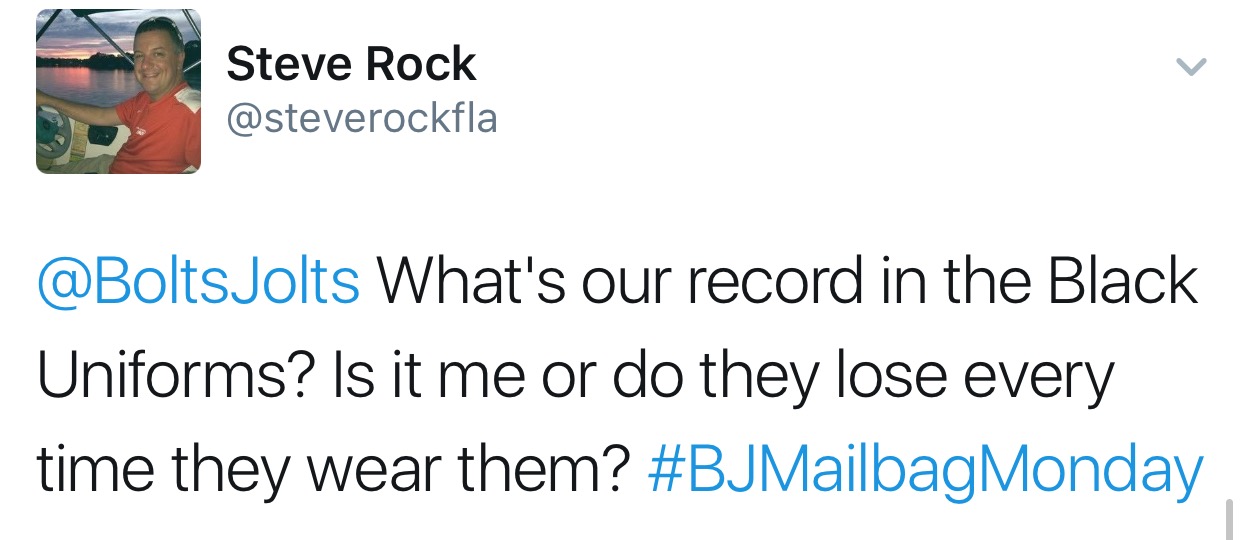 I thought about this for a bit and did a tiny bit of digging and couldn't find much on the surface. However this brings up a great topic and would be a fun thing to dig into and actually find out the truth. What I can tell you is that people who tend to like the uniforms give me the impression that Tampa Bay plays well in them more often than not. While people that tend to dislike the thirds, seem to have your impression of them. Looks like its time to put it to the test and settle it once and for all. I'll have a feature article up about it in the near future.
Well guys, this was a long one but a fun one. I hope to get tons of questions from you guys every week to provide you with fun and hopefully informative mailbags moving forward. Again thank you so much to everyone who contributed. Spread the word, send me questions at any time during the week using the hashtag #BJMailbagMonday, and win sweet decals for your troubles. Hope you enjoyed reading as much as I enjoyed writing it. Until next week.