Mailbag #1 Numero Uno Edition
Welcome to the first ever Bolts Jolts Mailbag. Admittedly, the mailbag is a little light for this monumental event. It's kind of like that new used car store down the road. They have a lot of nice shiny cars out front but you just aren't sure what you would be getting yourself into. 
Let me assure you that contributing questions to future mailbags is in everybody's best interests. You get more to read, I get more to blather on about hoping to come off as a bonafide information waterfall. Its a win-win. On top of that, my favorite question from each mailbag will be getting a shiny, fresh, new smelling Bolts Jolts decal. And if that's not enough, well frankly it should be.
So lets get started.
 A similar question to this was actually asked directly to Lightning players before the season started. They admitted to feeling complacent last year when the season began. Wanting to just fast forward to the playoffs to get down to the "real work". Unfortunately, that mindset saw them struggling for most of the year and at one point being a question mark for the playoffs altogether.
This season I feel as though the players realize and understand that they cant simply go through the motions in the regular season and expect to waltz into the playoffs. However the regular season is an endurance test and there will naturally be lulls. While I don't think TB will be as inconsistent as they were last season, I think there will still be some stretches where it seems TB is in fact going through those motions. The key will be to break out of them as soon as possible and not let bad habits, which turn into mistakes, creep into their game on a consistent basis.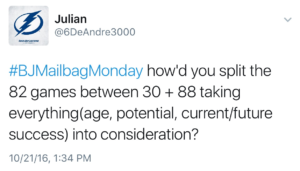 The goaltending situation is definitely one of the most talked about things regarding TB this year. Will Bishop go, will he stay, will he be traded, will he walk. Truthfully, no one knows the answer to that, including in my opinion, Steven Yzerman, at this point in the season. I think its a fluid situation that will change and evolve as the season progresses and dictates. The ideal split would be 50/50. This would give Bishop more rest and less wear and tear on his body. It would also give Vasilevskiy more games to adapt and push his development as a legitimate starter in this league.
So far this season Cooper has definitely gone to Vasy more often than he would have under previous circumstances. It seems he is aware of the impending situation and is trying to make sure everyone involved is prepared for it. How it shakes out, whether at the trade deadline or in the off season, remains to be seen. Regardless, TB is in good hands with whichever goalie is between the pipes.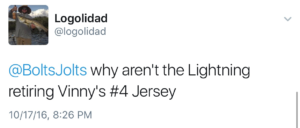 Ah the question on everyone's mind. When Tampa Bay announced that they would be retiring Martin St. Louis' number 26 this season, most people wondered why it wasnt in fact Lecavalier that was going to the rafters first. I dont know if there is a fact based answer here. Lecavalier should have been the first one in the rafters, with St. Louis shortly thereafter. One theory is Tampa Bay is waiting for his contract to expire with the LA Kings before they officially hoist his number four to the roof. Although with him retiring, that waiting period may not be needed.
No doubt will Lecavalier's jersey be swinging from Amalie Arena's rafters at some point in the near future, but only time will tell when. One thing is for sure, Vinik and Yzerman have a plan, and their plans are usually world class.
Now for the top question of this weeks mailbag. This question has won its author that sweet new Bolts Jolts decal. This could have been us, but you didnt send me a question.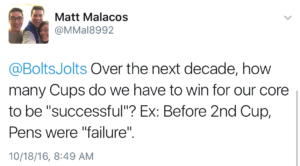 I liked this question because it has a lot of layers. First let me say that not winning a Cup, doesn't instantly mean your team is a failure. There are 30 (soon to be 31) teams in the league. Which means all things being equal you only have about a 3.23% chance to win it all. Obviously teams are on different tiers, but the Stanley Cup isn't deemed the hardest trophy in sports to win for no reason.
I feel Tampa Bay has already done enough to be deemed a success. Sure they have come agonizingly short the last two years. But no other team in the league has been as successful overall in that span. Having said that, I understand your point and would say that for the sake of argument, the answer is one. One Stanley Cup and your core is a success. One Stanley Cup and lots of heartache goes away for a long time. One Stanley Cup and that team lives on forever and is therefore a success.
So that's it for this first edition of the Bolts Jolts mailbag. I hope I answered your questions if you were kind enough to ask them. I hope I've encouraged everyone else to send me more.
If you have a question you'd like to see answered on next weeks mailbag, tweet it to me @BoltsJolts and use the hashtag #BJMailbagMonday.